After being out for a while, it is finally time for the return of John Galliano to the worlds fashion capital, Paris! The SS16 Collection is inspired by his roots in Great Britain, as we can see several references to British history, as well as to modern London. John Galliano portrays a unique mixture of statuesque uniforms with British rock and intimate lace work.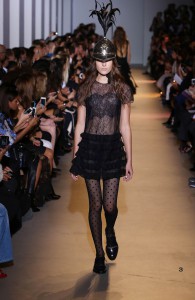 As the models walk down the runway we see lots of blazers and trousers with strong lines, creating a powerful and edgy feel. The cuts are perfectly tailored to the female body and the materials follow flawlessly. On the other hand, we also see a lot of delicate transparent lace with subtle embellishments. These inherently feminine designs are edged up with Brit-inspired caps, flat shoes and a badass attitude. Other notable designs are romantic cocktail dresses with a deep V-neck, several Brit-inspired checkered suits, and long organza dresses which flow beautifully over the catwalk. A returning motive is the use of polka dots, which can be found in most of the outfits.
The use of color is mainly black & white. However, there are several color accents such as beige, blue, army green and bright orange. John Galliano manages to create a coherent overall style by playing with these color accents throughout the presentation. The make-up and the hair are very neutral with an emphasizes on brushy brows, probably in order to don't make the looks too feminine. After all: John Galliano is going for subtle Brit Rock.
While John Galliano is commonly known for his over-the-top carnavalesque flamboyantly eccentric style, this SS16 collection was more subtle and can immediately be taken to the streets. A piece of London was present in Paris today, and the lovers of British fashion will be standing in line for this unique collection. Welcome back John Galliano!
P.s. My article was originally published at Modelboard Magazine. Check it out for all of my PFW Fashion Reports!