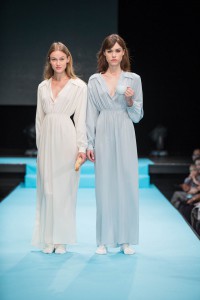 Before the show starts, the public gets to see a short film introduction in order to celebrate the 40 years' existence of the Fashion House. "I want to make clothes that can be kept for a lifetime" she states. Her designs are known for being classic pieces: suitable for any time or season. This typical French brand tributes its SS16 collection to the beauty of the everyday woman.
The show opens with two beautiful models walking together in long, simple dresses. They are holding a cup of tea and a baguette as if they just got their breakfast. The next looks resemble a businesswoman on her way to work: black & grey blazers and pencil skirts in combination with long coats and handbags. Later on, the designs get more casual and ready for summer.
There are a couple of graphic black & white designs with the iconic horizontal stripes Agnes B became known for. Furthermore, it is visible she has a weak spot for straight lines and soft materials: comfortable yet super stylish. She uses classic fashion pieces and gives them a twist with bright colors, new cuts, interesting combinations with other clothing pieces or with adding details such as buttons or zippers. Some of her favorite pieces are trench coats, straight trousers, blouses and blazers.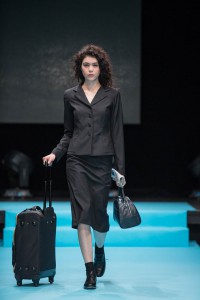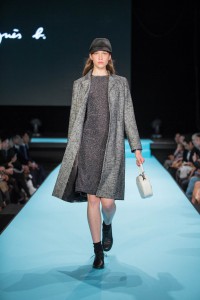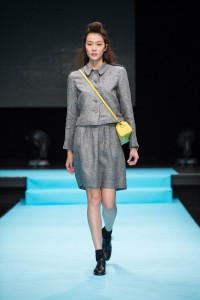 To emphasize the natural beauty of the everyday woman, Agnes B choses for a natural make-up look, it's not necessary to get all dressed up! The hairdos are also simple and straight forward yet elegant. By selecting a wide variety of models she also wants to show that everyone can be beautiful: any age, any race, any size… anyone! Agnes B sends out a great message to all of us, which is truly inspiring.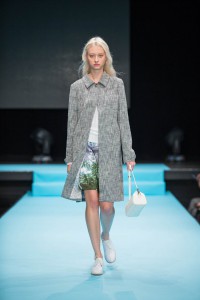 What we also like about the Agnes B show is the fact that any of the looks she creates, you can in fact completely put on and walk straight out of the door. She thinks everything trough: clothes, accessories and shoes. Furthermore, the energy is upbeat, it's fun! It's clear the models are feeling comfortable in their outfits and that they are having a good time (we even saw some smiles!), the music creates a good atmosphere and the looks are classic but impressing nevertheless. The quality of the material, the perfect cuts, the timeless charm… Agnes B made her 40 Years Celebration one to remember!