Tomorrow it's happening for me, I am going back to school! I will start my Master in Art Direction and Creative Advertising at the INSA Business School here in Barcelona, and I am looking forward to it like crazy! That is why I am dedicating today's #OOTD to a school-proof outfit: simple but classy.
Earlier this week I was visiting the designer Loretta Piovano, who is known for her feminine designs and adding interesting details to the outfits in order to create unique pieces. One of the designs she gave me was this black jumpsuit, which has a gorgeous neckline and a perfect cut… I was immediately in love! The jumpsuit itself is a typical all-black-classic, which gives lots of space to varying styling options.
So for today guys… I NEED YOUR HELP! There are so many cool ways to wear this jumpsuit that I can't decide which one to choose for my first day of school, let's check them out:
The Classy Lady
For the first option I went for a feminine style with black heels, a turban and a draped scarf from S Oliver. As a color detail I am holding a bright blue clutch of Karl Lagerfeld, I got it in Paris last fashion week during the presentation of Karl's new collection… I love it! While wearing this outfit I feel like a true lady who can go to class one moment (perhaps slightly overdressed, but definitely stylish!), and then go for a cocktail with a friend afterwards… who wouldn't love this combination?!
Shop the Look:
Turban Mango: €9,99
Scarf Zara (similar): €25,95
Wallet Karl Lagerfeld (Pink): €85,-
Or in case you just LOVE the blue:
Blue Clutch Givency: €360,-
                                                                      The 'Too Cool for School'                                                                  
Another idea is to just completely ditch the lady look and go for a streetstyle with my all-time favorite black Converse sneakers. With a comfy long navy-style cardigan I can comfortably walk around without getting cold and my big backpack can definitely hold any book I might need! Perhaps you might have noticed that the neckline of the jumpsuit changed… while being clumsy and putting it on wrong, I actually discovered that I like this straight neckline too, PLUS the back has a cool detail to it now! I'm not sure if Loretta Piovano had a reversible jumpsuit in mind when she designed this beauty, but it sure works! With the streetstyle look I feel confident and casual, which is also very important for a first day!
Shop the Look:
Converse Shoes: €55,-
Mango Cardigan: €49,99
Zara Bonnet: €9,95
Backpack: Vintage
Girly Chic
Braids, black derby shoes and a fedora hat… how cute can it get?! To don't look all too much like a naïve schoolgirl I edged up the look with a leather jacket and my little Moschino bag. I think it sends the message: I'm cute, but don't mess with me! At least, that's what I like to believe haha. Personally I love Fedora hats since they make an outfit instantly fashionable. The good ones are hard to find but once you got it… cherish it! In this girly chic outfit I feel stylish and ready to rock my day!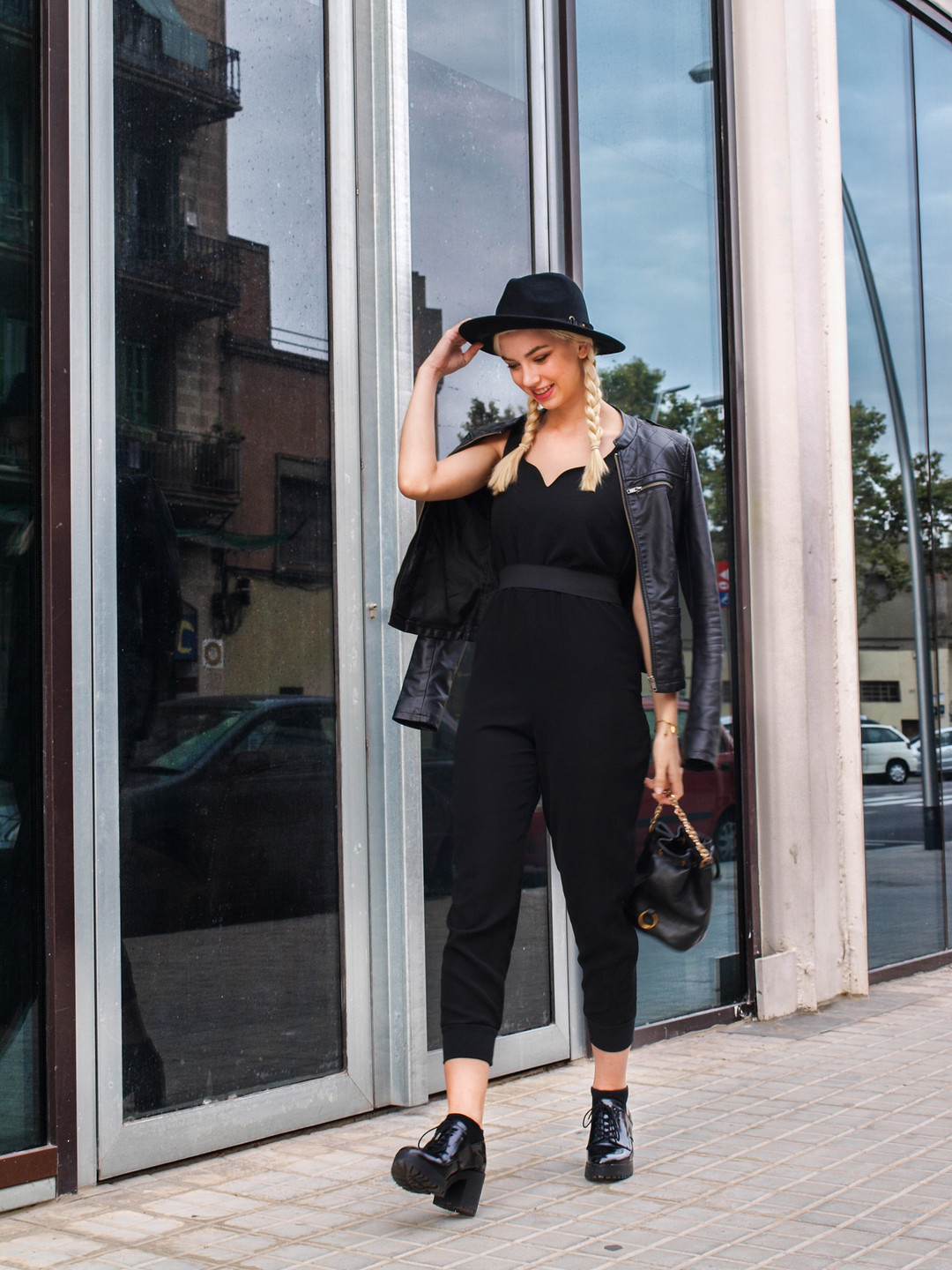 Shop the look:
Zara Fedora Hat: €25,99
Zara Shoes (similar): €49,99
Moschino bag (similar): €621,-
Vero Moda Fake Leather Jacket (similar): €39,95
There you go, three options, all with their own pros and cons… Which one to choose? Let me know which look you would like to see me wear tomorrow! If you are just as in love with this jumpsuit as I am let me know, you can order them via e-mail (hola@lorettapiovano.com)
Lots of love,
Lynn