What happens when the #1 Celebrity Photographer of the Netherlands teams up with one of our best artists? It happened! And I was there to witness the result in the Hard Rock Café of Amsterdam! In fact, I was invited for the VIP revelation as the muse of Toshy, the artist. Earlier that month we worked together on the projects 'Seduce Me' & 'Love Now!', and it was an amazing experience so I had to be at The Opening to show my support!
The evening was packed with interviews, networking and of course… beautiful artworks! It was an amazing experience to be able to get so close to the paintings and admire the extensive details which Toshy created. Maarten Waalraven (a.k.a. Toshy) is known for taking photos and transform them into art pieces with his unique painting technique which reminds us of street art and graffiti. For this special occasion William Rutten gave Maarten a selection of thirteen portraits of celebrities:
Robbie Williams, Prince, Rihanna, George Michael, Paul McCartney, Kurt Cobain, Adele, Bono, P!nk, Madonna, David Bowie, Mick Jagger & last but not least our own Dutch pride Marco Borsato.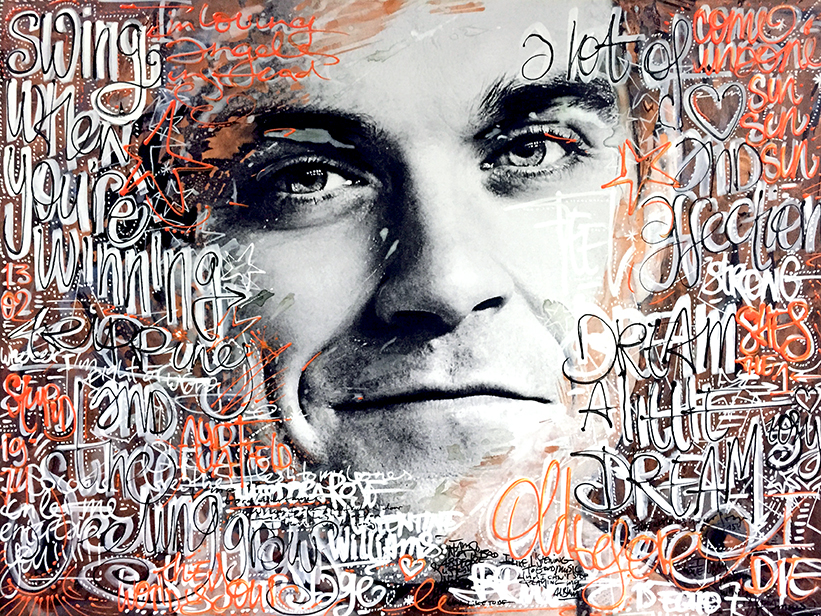 I asked William why he chose for these specific celebrities. He answered that he had asked his followers on Facebook about their thoughts but that most of the answers were a little bit cliché. He decided to make a mix between old & new legends, then and now. He chose for celebrities which impressed him, which he admired for staying down to earth, and who he had a good connection with during the shoot. Who he still wants to get in front of his camera? Barrack Obama is #1 on the list.
It is fascinating to see how Maarten used his painting technique to personalize the portraits by writing texts which are related to the artist. About their work, their life, their thoughts and their image. In my interview with him he explains that he tries to oppose stereotypes with his art: he tries to show the other side of the story, the person behind the public image.
Furthermore, Maarten explains how his artistic style has developed throughout the years and how everything started in the 80's: Graffiti was no longer seen as a nuisance but as a talent and was rightly recognized by the media. Maarten started experimenting with combining street art and his creative studies, which resulted in a new style of art which he defined by the end of 2012: he combined his graffiti skills with personal background, typography and photography. How great is that?! I can't wait to see the artworks he will make from the project I collaborated on with him!
Currently the Legends Exposition can be found in Ruchpen and will start its tour at the beginning of the new year, something we can all be looking forward to!