Hi guys!
Last week I had so much fun, my sweet friend and fellow blogger Charissa Goldapple a.k.a. Lady Goldapple came to visit me in Barcelona! I tried to take her to as much beautiful hotspots as possible during the day, and party in the best clubs during the night! Long days and long nights make sure for a lot of fun, and a lot of exhaustion. But of course, bloggers wouldn't be bloggers if we wouldn't also do a small photoshoot together before she left!
Can you guess where we started our walk? It's right in front of Arc de Triomf! We walked down the boulevard in the direction of Ciutadella Park. This is a great area to walk around because you can find many streetartists and skateboarders around there: they sure love the long, open streets without cars. Besides, since I'm a Dutchie I love the sight of palm trees. They give me the feeling like I'm on vacation, so happy and relaxed!
Ciutadella Park is the biggest park of Barcelona and has the most beautiful fountain as its treasure: the light blue water and the golden statues create interesting color contrasts which looks great on a sunny day. In summer I love to come here to have a picknick with friends or to read a book in the sun! On the other side of the park you can find the Zoo of Barcelona, which is also worth a visit!
You must be wondering by  now… what are we wearing actually? It turned out we are both fan of the current Grey Trend and we actually were able to put together matching outfits, awesome! This look is quite basic and really easy to do by yourself: all you need is a midi grey dress, a leather jacket and an accessory such as a black hat or a scarf, et voilá! You're good to go!
My own dress (Zara) is long, warm, straight-on, comfy and SUPER soft, I love to wear it! By wearing the leather jacket I create some more shape and the illusion of a waistline. The black scarf (S Oliver) is a playful detail to make the look more dynamic, and obviously is great for keeping me warm! The black booties (Marypaz) and the fedora hat (Mango) give the neutral outfit some extra stylish edge. Charissa's outfit has a cute feeling to it because of the flowy bottom of the dress and the feminine necklace and well… look at her… isn't she just adorable?! She bought her dress in an online boutique shop but now you can also find it on Asos!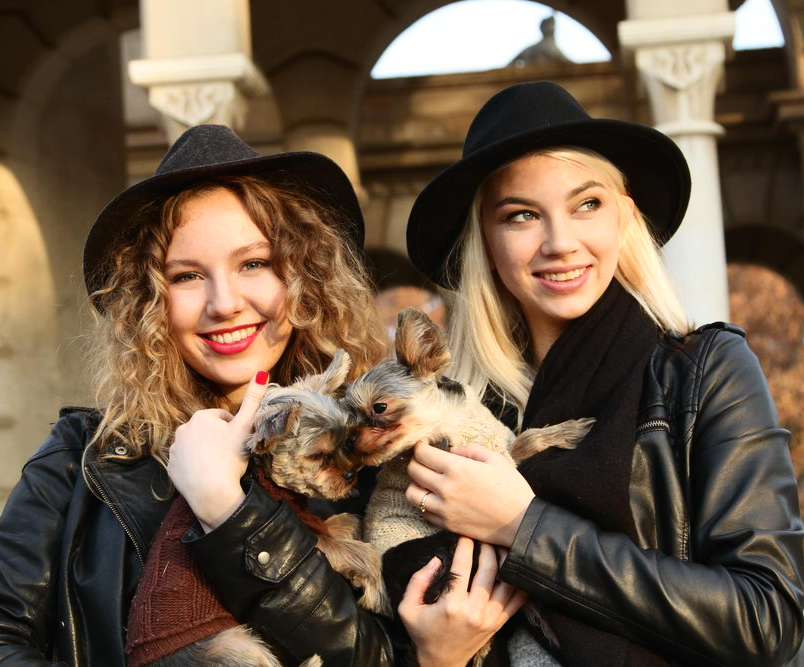 These outfits were randomly assembled from our closets to make matching outfits and they look great! Cheers to the prove that you don't need lots of money to be fashionable. Keep in mind you guys: all the money in the world can't buy you style! Just keep experimenting and having fun with your clothes, who knows what you will get :)
Lots of Love,

Lynn
P.s. All of the photocredits go to Luis Lau, it was so much fun to shoot with you again!