Oui Oui, Paris! Last week it was time for some Haute Couture: the crème de la crème of the fashionworld. What could a girl want more? Amazing people to meet, a beautiful city to visit and of course lots of luxurious fashion to see! Unfortunately, I didn't have much time this week so I only visited a couple of shows and presentations, but it was so much fun! Let's check out what I have been up to shall we?:)
The first day it was immediately a non-stop rush of visiting shows and presentations. My favorite shows of that day were Stéphane Rolland and Georges Chakra, who I was able to interview! Here is a quick backstage shot: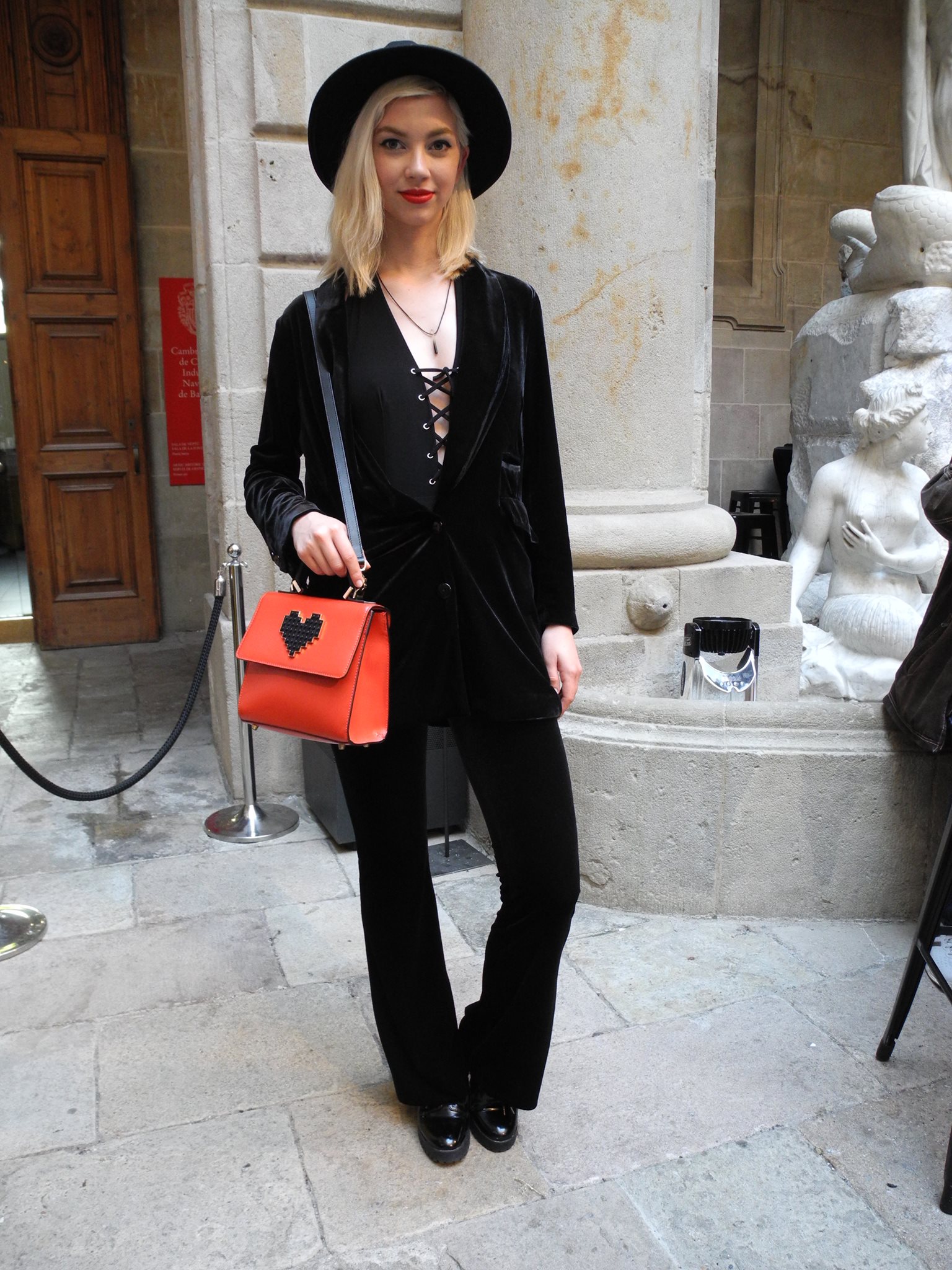 As you can see I am channeling my inner 70's with this gorgeous all black outfit! I was wearing an amazing velvet suit with a long blazer and flared trousers from Ay Si Barcelona which I got from Passage BCN. Underneath it I am wearing a laced up body from Boohoo.com which I personally love under any type of blazer or V-necks, it instantly makes the outfit look more fun and fashionable!
To finish up the outfit, I accessorized with a statement bag from Les Petites Jouers which I also got from Passage BCN, and a beautiful handmade necklace from Chris van den Elzen which perfectly blends in with my laced up body.
The next day it was great to see some Dutch representation during Haute Couture Paris Fashion Week with the collection of Ilja Visser! The designs were all based around the concept of skin, which resulted in quite some interesting looks. Unfortunately I don't have any pictures of our interview but I can tell you one thing: she is so nice! Check out my look for the show:
I felt very Parisian while wearing this asymetrical dress from Valentina Garí in combination with a beige coat from Maria Roch, both designers from Barcelona! It's a very simple but classy look with the fedora hat from Mango and my lace shoes from Zara. What I love about the dress is the fact that it has a velvet detail, which makes the A-line dress more unique and perfect for the winter season! In the afternoon it was time to change up my outfit for a cocktail party and the last show of Paris Fashion Week: Guo Pei! This was seriously on of the best collections I have ever seen, they call her 'the Chanel of Asia' for a reason!
With this beautiful grey croptop sweater from Maria Roch I felt like creating a more casual streetstyle in combination with my highwaist grey skinny jeans from Zara and a pair of high heeled booties. I changed up my beloved fedora hat for my new beanie from New Age Rebel – my currently favorite brand from London. Last but not least I brought some color into my outfit with this adorable clutch from Sarah's Bag, which I also got at Passage BCN. I love the text 'Take me Anywhere' and how the lock of the clutch is a little toy car, I mean… who doesn't love this?!
Also check out some phone snapshots of the Guo Pei show and the snacking adventures with my super sweet friend Marine Miquél!
The day after the Haute Couture Paris Fashion Week is officially over, it's time for the Haute Joaillerie presentations a.k.a. lots of beautiful shiny jewelry to gawk at! I was so happy to be invited to the Chanel presentation with Marcellous Jones: I had high expectations and they managed to surpass them!
This season Chanel experimented 

with seamless connections between the high quality diamonds without compromising the flexibility of the jewelry. The diamond shape of the stones is the motive troughout the collection: simple but classic. This necklace right here is the showstopper of the collection: it's worth €2,8 million! Sponsors anyone? 
During the little tour through the collection I was asked whether I would like to try on one of the rings… they didn't have to ask me twice! I never thought I could get this excited about jewelry but as soon as I put on this ring my heart started beating a bit faster. Chanel took my breath away!
Obviously I had a beautiful outfit ready for the occasion of seeing Chanel from close: a flowy navy blue dress from Maria Roch. It can also be worn as a vest but since I kept it closed it might as well function as a dress. Underneath I wore the same body from Boohoo.com as I wore for my hippie look, isn't it great to see how a different combination can completely change the style of an outfit?! I love how this outfit makes me feel super feminine and graceful as the dress wavers around in the wind, but also a little bit sexy because of the high split and the deep V-neck… A strong combination that gives me the best of both worlds!
Last but not least I decided to hang around a bit longer than necessary in Paris to go out to party with friends, and do a photoshoot with Koffi Annipah! We made some quick shots in C-Heads Magazine Style, I am so curious about the results!
Anyway, that were the highlights of my Paris Fashion Week, I hope you liked it! Cheers :)