Hi there!
I am especially excited about today's #OOTD on Spring Trends because the pictures I made with Naelia Salas turned out so cool! What was supposed to be just a casual stroll around El Raval in Barcelona turned into Editorial-worthy photography, Go Team :) In case you are ever in Barcelona and you enjoy modern architecture, you should definitely check out the area around MACBA. It's super central, right next to Las Ramblas!
So let's get into my outfit! I challenged myself to combine two of the most popular upcoming Spring Trends : Romantic Lace and Sporty Deluxe. By layering two completely different styles and dresses you create an interesting contrast in your outfit: lenghts, materials, movements and ambients are clashing – but because of the neutral colors and minimalistic lines it works perfectly together.
Don't you just love how the lace flows while walking?! It gives a sexy feminine touch to the 'cool badass' vibes from the sweaterdress and the booties.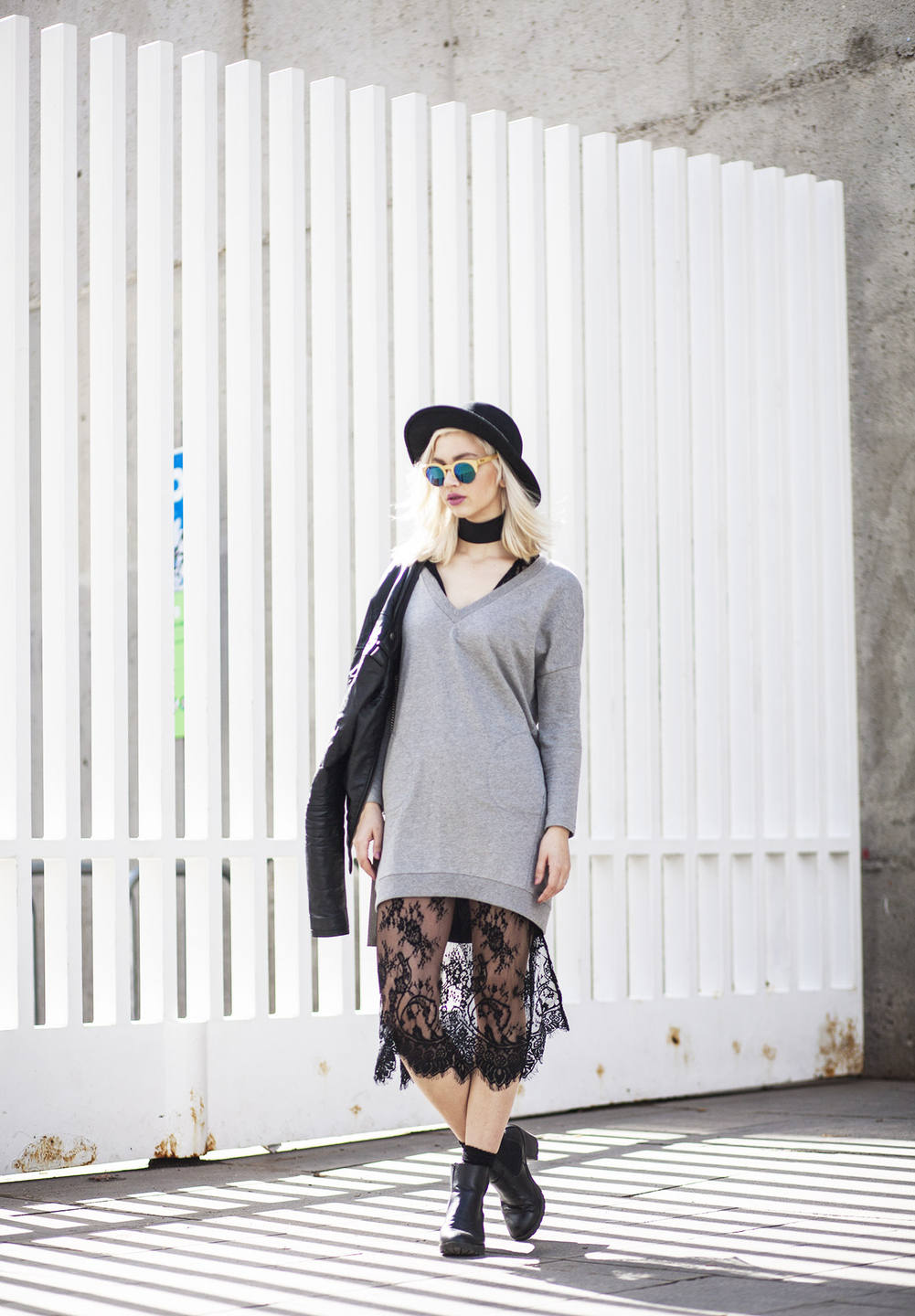 Small tip: in case you want to try this look, you should definitely look for a sweaterdress which has an elastic in the bottom part of the dress… it just looks so much better! If you go for an A-line sweaterdress all the shapes become even more wide and it becomes unflattering. Oversized Comfy is cool, as long as the shapes are still structured. 
Btw, did you notice that I am NOT wearing leggings and I actually felt the need to take my Sunglasses with me? There is actual SUNSHINE! As a Dutchie I am still trying to get used to the warmer climat advantages that Barcelona has to offer, and I am enjoying every minute of it! Every day when I wake up I look out of my window to find a bright blue sky wishing me a goodmorning… incredible! I am totally ready for this Spring/Summer Season :)
Also, let's take a look at my accessories! They are a very important part of the look since they are giving the 'final touch' to my Spring Trends vibes. As you are already used from me by now, the Fedora Hat can't be missed in this look, just as a minimalistic silver ring. I love how the Sunglasses give a touch of color with the blue/green reflections, and they are awesome because they are made from recycled wood! Other fun fact: the wide black chocker I am wearing is actually 'handmade'! All I did was buying 30cm of wide black elastic ribbon and applying a little button on it in order to attach the ends to each other, which cost me like… 50 cents? Once again a proof that it's not necessary to waste all of your money on the latest trends, all you need is some creativity :)
That was it! My Spring Trends Mix, I really enjoy this outfit and will be definitely wearing it a lot this Spring. I'm very curious what you guys think about the combination so leave a comment to let me know!
Lots of Love,
Lynn
Shop the Look
Sweaterdress: Zara
Lace Dress: Zara (similar)
Sunglasses: Woodys Barcelona
Shoes: Marypaz