Hi there!
Don't you wonder sometimes… what do models and/or bloggers actually REALLY do?? Many people ask me what a ´normal´ workday looks like for me, which I always find hard to answer because there is so much variety! This week you will be able to tag along with me with this Photo Diary to see what I do on a daily basis: get ready because I've had a crazy week! One spoiler: It involves 2 countries and 8 cities
Sunday 15 May:
8.00: Getting up early on a sunday, YAY this is great! Not really, but I am very excited about the shoot I will be doing today. I am meeting up with a Dutch photographer called Mark van Velsen: we have been wanting to shoot together for 2 years already and now he happens to be on vacation in the Costa Brava. Not an opportunity we can miss obviously!
10.00: After breakfast, packing all the clothes (I prepared the styling for this shoot myself and I am SO happy with it!), running around to see if I forgot anything, me and Alex finally get into the car and start driving towards Calella.
13.00: After we had some problems with finding a good location for the shoot, we eventually ended up in Platja d'Aro. This was quite further than planned, but it´s beautiful here! Let´s get this shoot started!
21.00: After shooting 8 looks on gorgeous locations we are finally done! We had a blast, the results are going to be awesome, but now it´s time to start driving home and have a verrryyy late dinner.
23.00: Cooking up a pasta salad and chilling a bit on the couch before going to bed….
4.00: Ups we fell asleep at the couch, perhaps better to get up and actually get into the bed haha. Goodnight!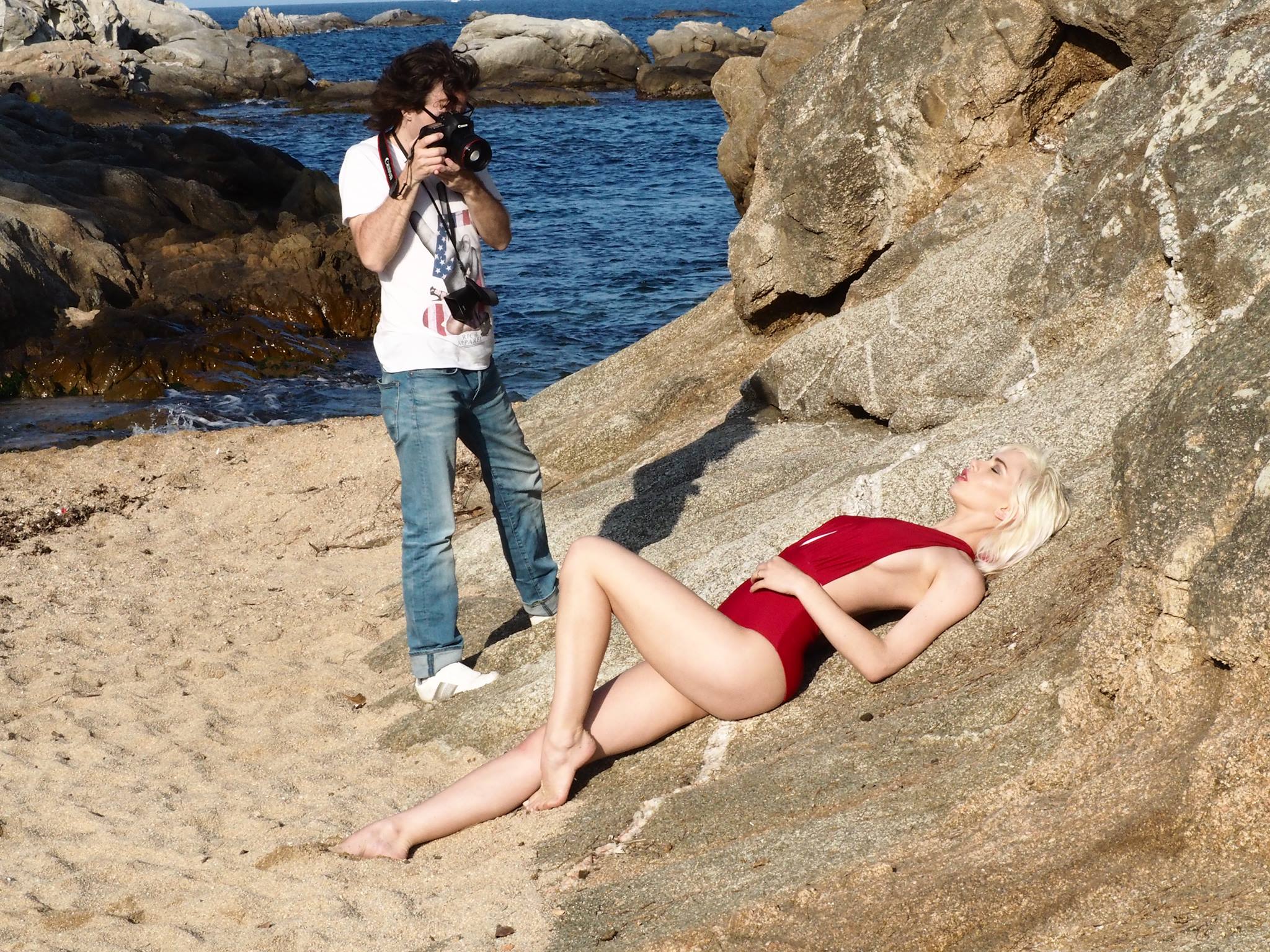 Monday 16 May:
11.00: Ups we overslept 1 hour, I guess yesterday was a long day so that´s fine. Today I have nothing on my planning, so we take an easy breakfast and shower.
13.00: Time to check my mails and send out some messages. I printed out my flight tickets for tomorrow and checked the backstage pics we made yesterday, cool!
16.00: Getting my lunch and hopping in the car to Barcelona (in case I forgot to mention before: I was in Sant Cugat at the house of Alex). We also passed by a beautiful shopping center in Gloriès to check out some shops and make pictures!
21.00: Last preparations for my departure of tomorrow! Packing my suitcase and doing my last-minute checks. I'm going to bed early today.
Tuesday 17 May:
6.00: Getting up early to catch my flight to Alicante, I'm sleepy but at least I got an extra hour while flying.
12.00: Once arrived we drive to our Bed & Breakfast for some food and we get on our way to the shoot location. The next two days I'll be shooting with the Belgium Photographer Thierry Goovaerts!
15.00: I am really enjoying the car trips because of the amazing views here, and the temperature is so nice! The shoot location is a beautiful beach and we are ready for making some awesome shots!
21.00: Shooting time is over! Let's pack up everything and drive home, I am tired!
0.00: Okay so we got lost and it took longer than expected, but we made it! In the Bed & Breakfast there is a Paella Party going on and we decide to join to get some food and a drink. Later on I set myself on the couch to quickly answer some mails.
2.00: I will most definitely sleep like a baby right now, goodnight!
Wednesday 18 May
8.30: Goodmorning! I'm feeling fresh and ready for the next shooting day, we all meet up for breakfast and discuss the schedule for today's shoot.
11.00: We are going through the styling for today while getting on my make-up. The shoot starts at the Bed & Breakfast because they have a beautiful garden.
16.00: Okay awesome, we made some amazing shots! Now it's time to move to the next location and pass by a supermarket on our way there because we are HUNGRY.
19.00: I would have loved to stay longer on this beautiful location – another beach – but unfortunately it's time for me to go; I have a plane to catch! Shoot make-up and wet hair included, I'm on my way to the airport to fly back to Barcelona.
0.00: Finally home! I'm tired but I have to eat something, clean myself up, and repack my suitcase for the Netherlands, where I'll be flying to tomorrow. I hope I'm not forgetting something…
2.00: Sleepppzzzzzzz….
Thursday 19 May
8.00: Getting up and preparing for my flight, also still had to send out some other mails and take care of my blog & social media. For breakfast I'm having my all-time favorite muesli with yogurt and fresh fruits.
12.00: On our way to the airport! Alex is dropping me off because he is such a sweetheart. One bummer though: it turned out that the plane had a delay of 2 HOURS! Bored bored bored…
17.00: Arriving later to Amsterdam than expected so now I have to hurry! I'm going straight to Amanda's house (where I will be sleeping this week, thanks hon!), change outfit and repack my suitcase. Within an hour we are on our way to the 2 events we are attending today!
19.00: Men Today was having a great party with drinks, fashion and fun people! Unfortunately we couldn't stay long because we have to drive to Rotterdam for the opening of The Loft in the NHow Hotel in Rotterdam.
21.00: We arrived in the hotel and first chilled in our hotel room a bit, dressed up, had a drink, and went downstairs: It's party time! She is vlogging her way through the event while I'm busy making pictures for my Photo Diary!
0.00: The event in The Loft is over, but the party isn't! We moved over to the city center to have extra drinks, chats, dance and get to know the party scene in Rotterdam.
5.00: Back in our hotel room after too much drinks and the unwise decision of eating some McDonalds, but it was so good though! We are quickly going to sleep because we have to get up early again x.x
Friday 20 May
9.00: Time to get up already! We quickly take a shower and get ready because I have to be in Amsterdam again at 12.30! Traffic isn't helping today…
13.00: Yay, it's time for the Hunkemöller Ambassador Event! I am SUPER excited! In Amsterdam I've met up with Lucas, who is going to be my videographer for today!
16.00: After a brainstorm session on the newest Sport Collection now it's time for a beach shoot in Hunkemöllers' newest bikinis, and they are so beautiful! It's a bit cold but the location is so beautiful that I keep running around to make even more pictures and videos for the photo diary:)
18.00: The bus is going back to Amsterdam, thanks for choosing me as your new ambassador Hunkemöller, I'm so excited! Now it's time to keep moving to the city center for a party of Harley Davidson with Amanda and other lovely people!
20.00: The party moves to another bar, where we hang out till we go to the Supper Club to celebrate Manou's & Desy's Birthday!
3.00: Back in Amanda's place and straight to bed!
Saturday 21 May
10.00: Taking it easy in the morning with a nice breakfast, social media, freshing up and packing my little suitcase for today. 
14.00: On my way to visit my sweet friend Christel this weekend! In the train I have some time to answer mails and messages: 10 points for multitasking!
16.00: Christel is picking me up from the train station and gives me a tour in her parent's home, which I found awesome because it's a goat farm! After dinner we go for a drink in her hometown and catch up all night :)
1.00: Ups it got a bit later than expected! Time for a quick shower and off to bed because tomorrow we are getting up early. Totally forgot to make pics for my photo diary today because it was so relaxed, sorry guys! Here is a cute pic of me and Christel anyway <3 
Sunday 22 May
8.00: Getting up early on a sunday AGAIN (whyyyy always on sundays?!), getting breakfast and in the car! Christel is driving me to the studio of Ivor Paanakker: the photographer I'll be shooting with today.
10.00: We are first getting some tea & coffee while waiting for the full team to arrive, then we go through the concept and the looks. The jewelry designer had a great idea: why don't we do a duo shoot with Christel as the second model? Hell yes! Great idea, let's do this!
20.00: After shooting some amazing pictures everyone is super excited and we are on our way out. Christel drops me off at the train station and I'm on my way back to Amsterdam.
22.00: Yay, back at Amanda's place! My hair is all messed up so I need to take a shower right now. In the meanwhile she made a delicious salad because I was sooo hungry. Once I'm good, I check my notifications and fall asleep in the middle of a mail, ups.
1.00: It's Amanda's time to go to bed so I quickly put on my PJ's, go through my beauty regimen and join her. Happy and tired after a long but exciting week!
Pfiew, that was a long week wasn't it? Did you like my photo diary? People have been asking me why I wasn't super tired all the time, and I will tell you why: I LOVE WHAT I DO :) The only way you are going to survive in the fashion world is by having a huge passion for your job, endless creativity and excitement about new opportunities. You know what they say:
"Choose the job you love and you will never work a day in your life".
Lots of Love, 
Lynn