The newest fashion, croissants, celebs and more. Last week it was time for Paris Fashion Week, and I was there! I was running around non-stop, so I decided to make a small diary for you guys to give you an idea about what fashion week looks like. Sitting front row at the coolest designers, meeting Karlie Kloss, and of course posing for the streetstyle photographers in between shows. I'm spilling it all.
Saturday: October 1st
After not sleeping for a full night because my flight was wayyy to
o early, I finally arrived in the Generator hotel in Paris. I had to wait for a while till my room was ready, but I don't mind at all. I can relax in their chill space and prepare a couple of articles that I have to write for the Fashion Insider: a magazine that reports on all the shows.
The time flies because suddenly I have to get changed and run to my first catwalk of the day: Rahul Mishra! A super talented designer that I always love to see. After the presentation I visit a couple of other fashion presentations and then I go out to dinner with my fellow Dutch bloggers. Yay!
From left to right:
Ovo Drenth (model)
Larissa Bruin (blogger)
Amanda van Effrink (vlogger & illustrator
 Lily Tjon (blogger)
Me
Linsey Sijmons (blogger & journalist)

Sunday: October 2nd
And up early again! I am quickly writing some reports on what I saw yesterday, eating my breakfast, and running off to the shows. I just spoke with the owner of the Fashion Insider and there are around 10 invites waiting for me. I am not very lucky today: the internet that I bought doesn't seem to work, so I have to navigate the old-fashioned way. The first show is Roland Mouret, where I got seated right next to Olivia Palermo (say what?!). I have to be honest with you guys: Yes, I totally had a fangirl moment. I couldn't help myself and had to ask for a selfie #sorrynotsorry.
One of my favorite shows of that day – and the complete Paris Fashion Week –  is from the Dutch designer Dorhout Mees. A beautiful, theatrical presentation which would make any Dutchie proud! After running in between shows all day long, I arrive to my hotel rather late. I fall asleep immediately: too tired to work.
Monday: October 3rd
Time to get up early again! I am meeting up with Fashionchick Amanda van Effrink and blog buddy Linsey Sijmons. They have to leave Paris at 13.00 so we quickly wanted to pass by the Eiffel tower for some Instagram pictures, because that has to happen as well!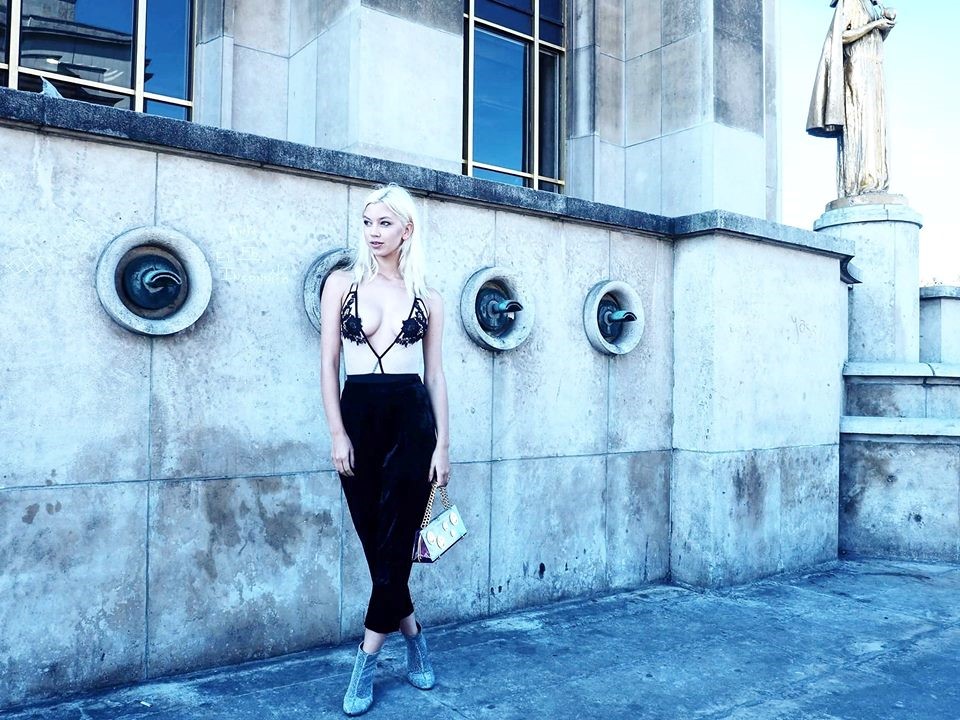 After that I have to quickly run to the show of Leonard, a brand which had lots of beautiful designs. I wanted them all! Sometimes the life of a blogger is hard: you constantly see hundreds of cool things you want to wear but you cannot keep them #thestruggleisreal. I was lucky to go backstage and meet the designer, super happy!
On my way to a restaurant for lunch I accidentally passed by the entrance of another fashion show. It turned out that the streetstyle photographers LOVED my outfit so I had a fun little paparazzi moment right there. But it gets even better: just as I was there in front of the photographers, the little sister of style icon Chiara Ferragni arrived. "It's now or never Lynn, ask if she wants to make a picture with you… the photographers are here anyways!". She thought it was super nice that I asked so I totally scored that picture, yasss! However, because I got hold up longer than expected there was no more time for lunch and I had to run to the next show.
Photocredits: Andrew Barber (@omnistyle)
In the evening I put on my prettiest glitter dress and went out for a dance in Paris. After all the working I needed to blow off some steam, it was so much fun!
Ooff… I just slept 4 hours, but it was totally worth it. I overslept a little so I have to run to the show of Agnes B, where I can interview the designer after the show. In between shows I pass by Gallerie de Lafayette in order to get some extra fashion inspiration – as if I wasn't getting enough of that yet at the Paris Fashion Week. During the shopping session I get a message from the magazine: I have an extra show within 10 minutes. RUN! Thankfully it wasn't too far away so I actually arrived in time.
Redemption is an edgy, sexy brand from Italy with a couple of top models such as Sara Sampaio and Dutchie Marjan Jonkman. After the show I wanted to go backstage to congratulate the designer, and found no one less than Anna dello Russo: the editor in chief of Vogue Japan and one of the most influential style divas in the world. Such an honor! Unfortunately, I cannot stay too long because I already have to run to the next show. On my way there I find two other Dutch bloggers: Lily and Larissa! It's always great to meet nice people on the way. After drinking a cup of tea I have to continue my way to the show of Shiatzy Chen – a top designer from China.
As soon as I enter the room I can barely even walk through the crowd… what are all these people so excited about? Camera crews, journalists, photographers and enthusiastic visitors are all standing around Section C. Doubtfully I check my invitation and yes…. Section C. With some effort I get through the crowd and I quickly realize why people are so excited: Karlie Kloss is sitting front row! Don't you just love how anything can happen during Paris Fashion Week?
After Shiatzy Chen I have to pass by a couple more presentations and get to my hotel way too late. I quickly eat some dinner and then start writing reports, because that has to happen as well sometimes.
Wednesday: October 5th
And then it's already the final day, time flies by during the Paris Fashion Week! In the morning I visit the show of YDE and get hunted down by the paparazzi as soon as I walk outside – they are already calling me by my name because they have been photographing me all week haha. It's nice that my personal style is appreciated! After a full streetstyle session I return to Generator Hotel because I also have a photoshoot in my hotelroom: it's so pretty that I couldn't help myself!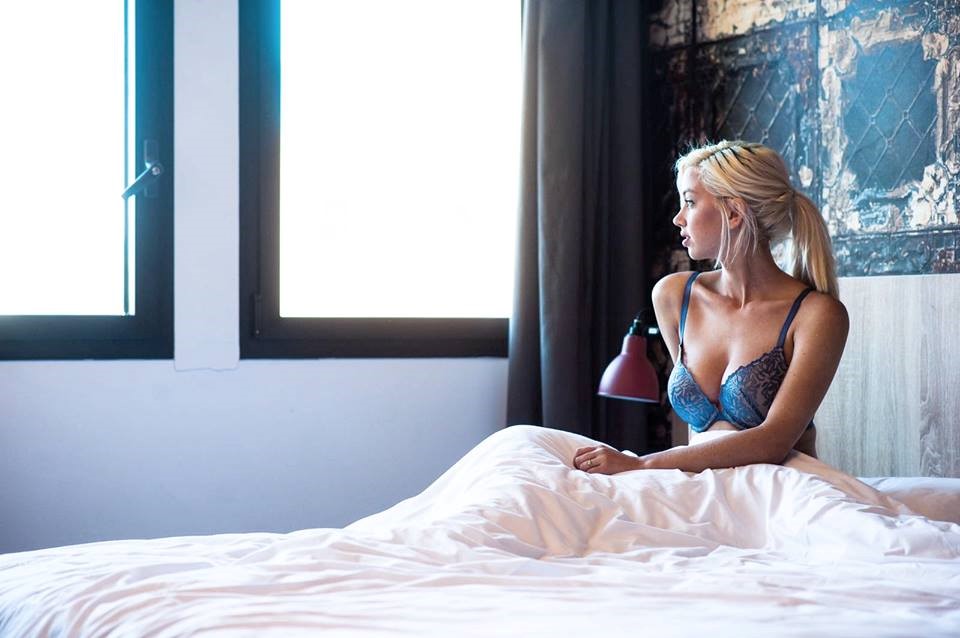 Photocredits: Andrew Barber (@omnistyle)
In the afternoon Lily and Larissa ask if i want to go to the Eiffel tower with them to make pictures, and after that I join Marta Sierra – a super cute Spanish blogger – to Ladurée. Because you cannot miss Ladurée while you are visiting Paris! Obviously we spend way too much time chatting about everything and I get to the hotel super late.
I quickly grab some veggie noodles at Generator, and suddenly run into the marketing manager of the hotel. We had such a good time talking about travelling that I get to my bad at 4am (!!!). I already pack my suitcase because the next day it's time to check out.
Bye Bye Paris Fashion Week. I am on my way to London, ready for my next adventure!