Oh how I love my trips to Amsterdam, there are always fun activities to attend! I am thinking about moving there actually, because living in a small town in the south of the Netherlands is far from… exciting. Anyways, let's get back to my story: this time I went to Amsterdam to visit the Hunkemöller Pressday and see the swimwear collection that Anna Nooshin designed!
Before going to the press event, me Lieke and Loïs decided to meet up in the Pulitzer hotel for a blogger date: coffee and pictures. I recently ordered these new clothes at Ivy Revel, so obviously I wanted to make pretty pictures with them! I mean… dusty pink satin bomber and bell sleeves? YASSS #obsessed
Here are some quick results of our shoot, what do you think? I scored my full look at Ivy Revel, a fashion brand co-founded by one of my favorite Swedish bloggers Kenzas (girlcrush #noshame). If I could, I'd probably fill a full wardrobe with all of their stuff! That's why I was SUPER excited when they e-mailed me to ask if I want to become one of their 'Revelistas' a.k.a. ambassadors. Ehmm.. Hell yes?!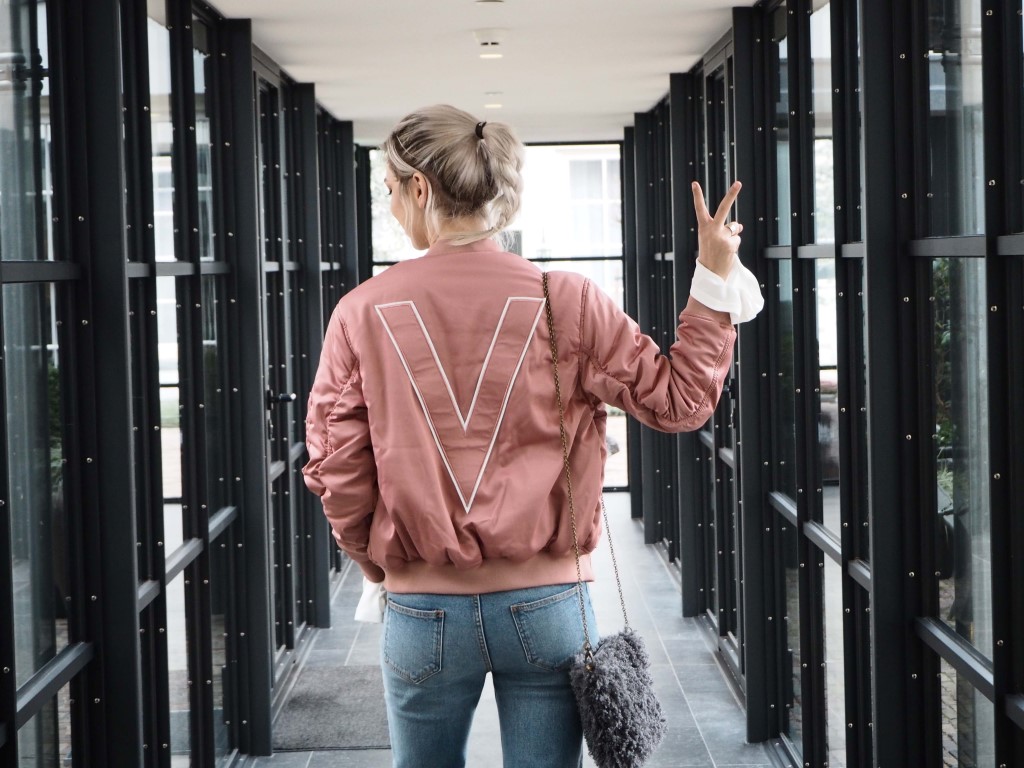 Every month I become more grateful for my  blog because it has been giving me so much amazing experiences and opportunities. But this doesn't only have perks for me, I am sharing the positive vibes! As a Revelista, I can give my dearest readers 20% discount on their purchases with the code: BLONDE20. Who wants to be a Revelista with me?:)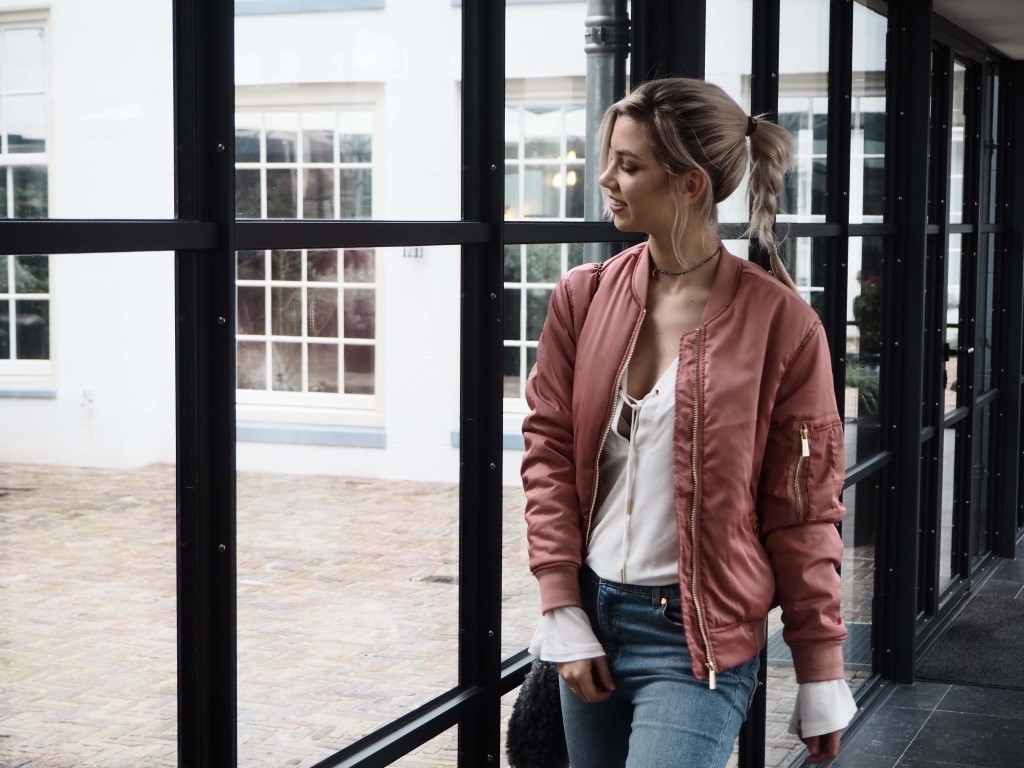 After drinks and pics it was time to join the rest of the Hunkemöller crew! One big happy family :)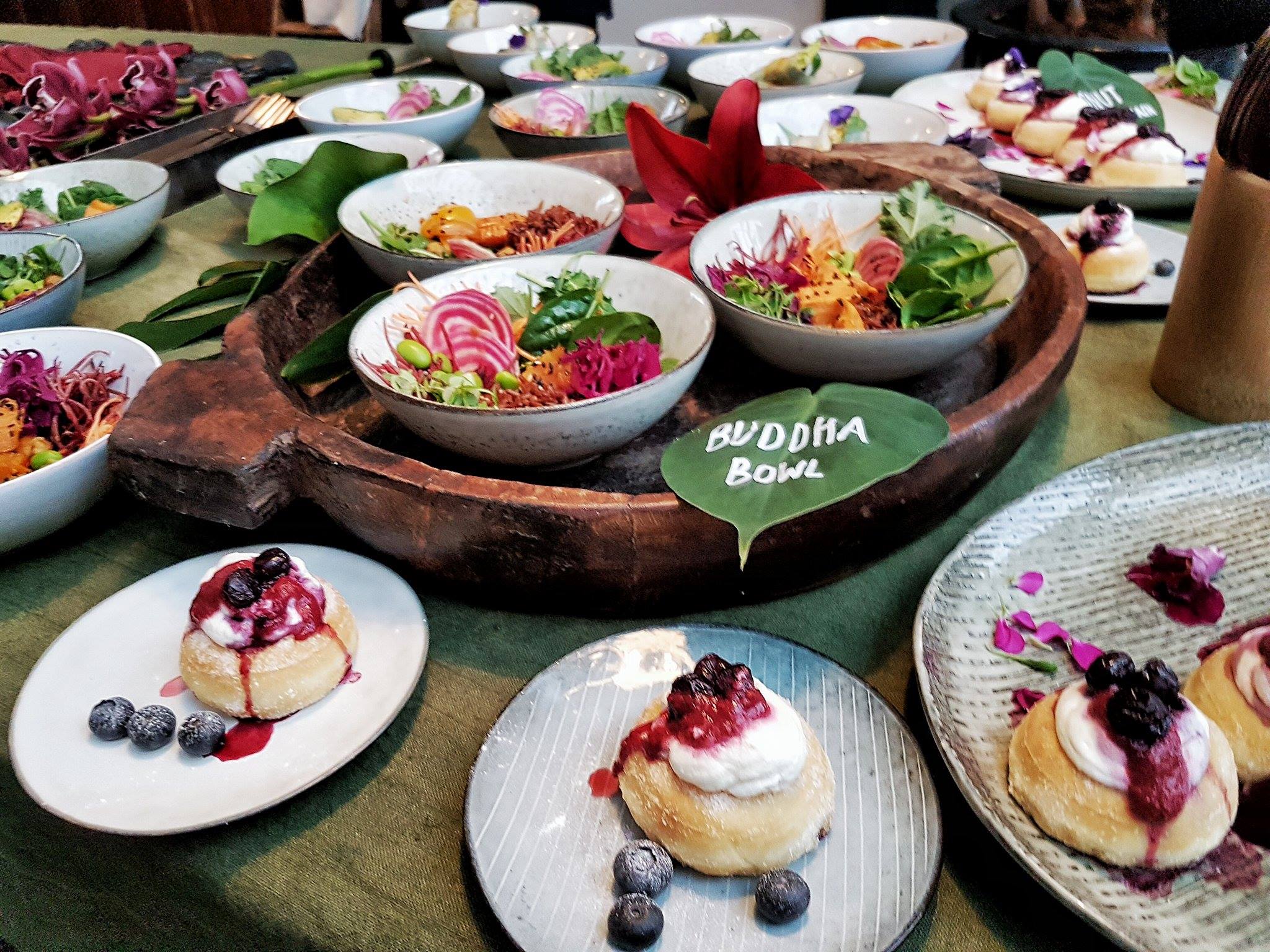 Obviously, we all got super healthy snacks for lunch (except for the donuts, but in their defense: they have blueberries!). While enjoying the food we could walk around the Vaudeville Theater to admire the new swimwear collection of Anna Nooshin.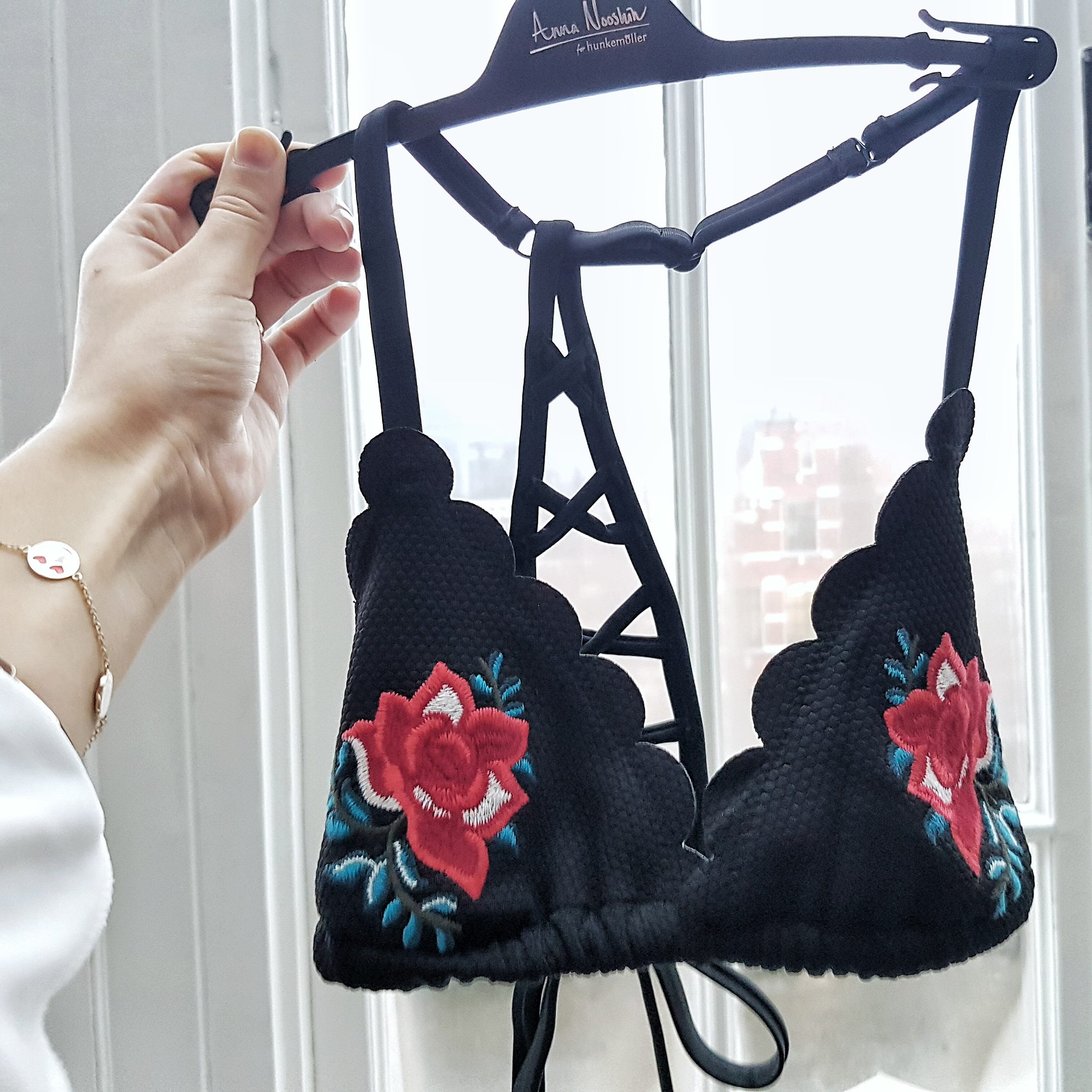 This was one of my favorite bikinis because I love the laser cut edges, but there were so many amazing looks that it's hard for me to choose! Help me: which one should I be doing a beach shoot in this summer?
There was perfect light for selfies, so obviously me and Lieke had to take 1000's. For today, I will spare you the details though lol. 
Isn't this a cute little corner? But even more importantly: this was the corner where me and the other ambassadors were going to meet Anna Nooshin (finally!). I've read her book On Top and I really admire her as a person, as well as a career woman. Usually when I meet 'famous' people, I always wonder if they are as nice as they seem online, and most of the time they unfortunately don't live up to it (except for Karlie Kloss)….
However, Anna really was 'lekker nuchter' as we Dutchies would call it. Down to earth, professional, humble, honest and kind. The poor thing must have been exhausted because she has been travelling around for work 24/7, but still she took the time to talk to everyone and take 1000's of pictures, never change Anna :)
After our 1-on-1 time with Anna, me and the ambassadors stuck around for some extra drinks and to film a video for Hunkemöller. I have NO clue when it's coming out, but I am super nervous! It's quite ironic, but as soon someone points a camera at me I become nervous and I talk weird lol #modeloftheyear #notsomuch
After the event me and the two german ambassadors (Nora and Carina) went out to dinner and that I hopped on the train: off to Utrecht! I crashed at a friend's place (thanks Helia!) and the next morning I had a blogger date with Kiki Düren at Laurent Salon & Spa. We were both totally ready for a pamper session and left completely zennnn. After getting in touch with our Chakra's, we had a coffee in the city and eventually took a train back home. The perfect end of my trip:)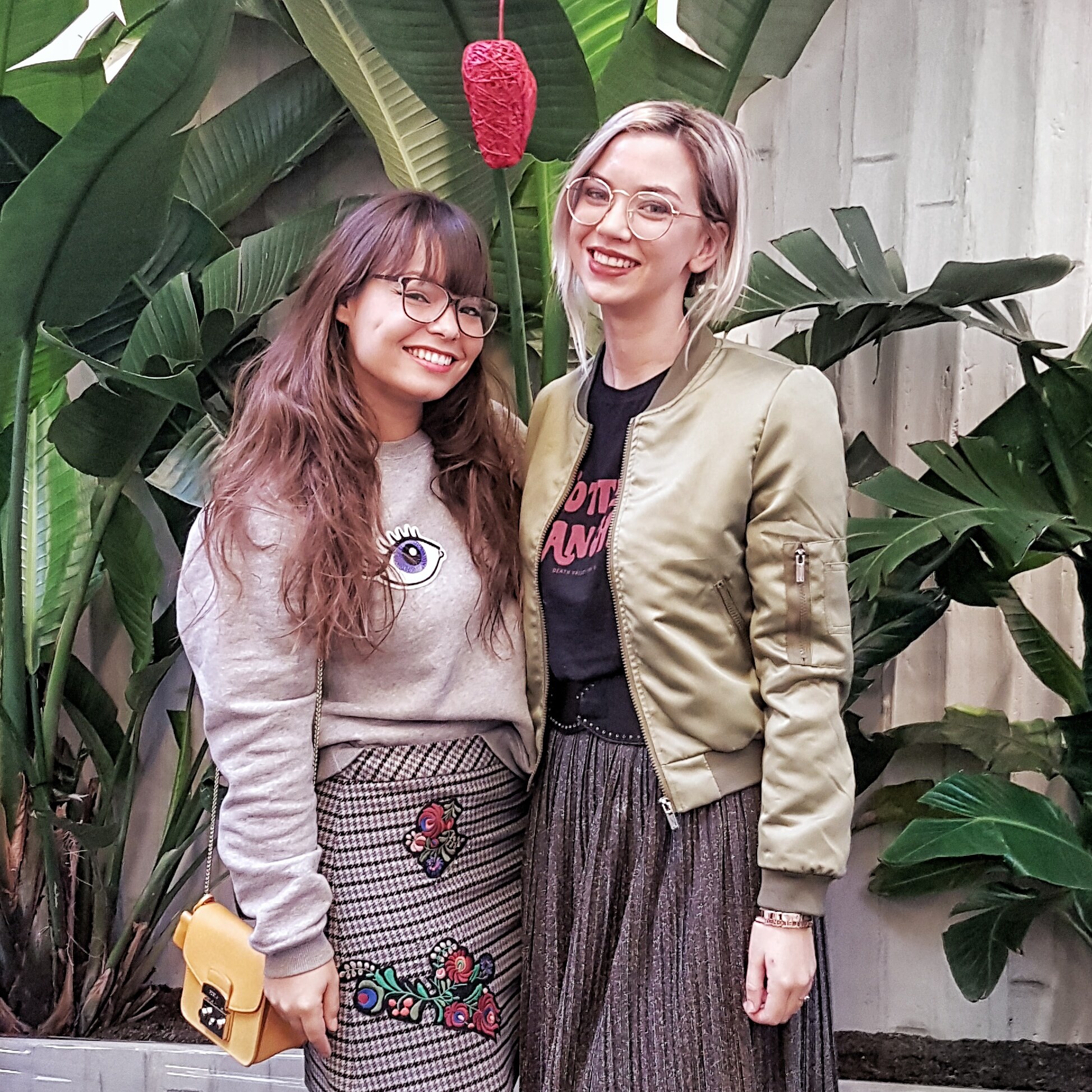 So there you go. In case you were wondering what bloggers do in their daily lives: running from events to meetings to blogger dates and making lots of pictures while visiting beautiful locations. After some intense days we are forced to lock ourselves up for a day to make sure we create nice blogs to share our adventures with you. Doesn't sound all too bad now does it? :)
Next week I have something super cool coming up again: Madrid Fashion Week! Make sure to follow my IG Stories for more 'behind the scenes' pictures.
Lots of Love
Lynn Quanjel
P.s. If you liked this blog, also make sure to check out the Highlights of my Paris Fashion Week and my Adventures in Rotterdam