Who doesn´t struggle with keeping their hair healthy in summer? Sure, we all love the sunshine, the beach and spending hours at the pool. But this does have consequences for our beloved locks. Dry, frizzy, lifeless… sounds familiar? I visited Salon B again to ask them everything about how to keep your hair healthy this summer. From DIY to the best products, keep reading!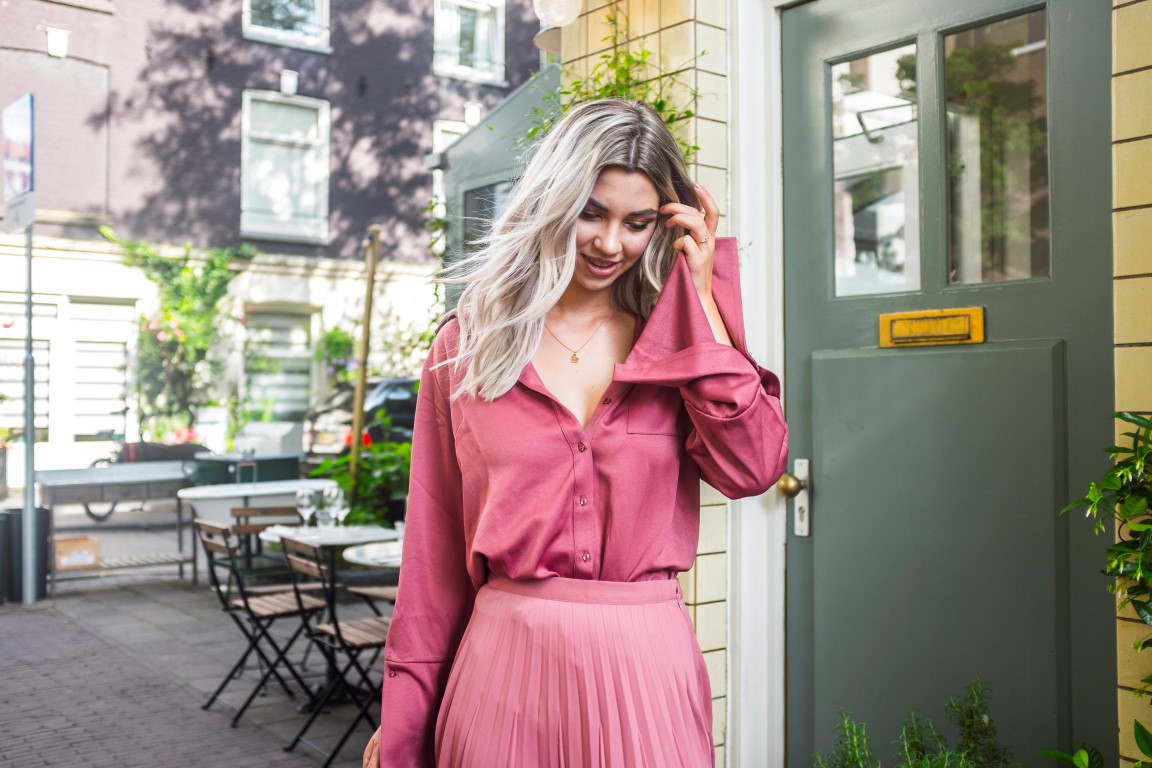 There are so many ways our hair gets damaged during summer. "The best advice?" Yvette asks me, "don't get your hair wet in the ocean or in the pool. The salt and the chlorine are seriously damaging." However, since we all like to live a little (YOLO), let's see what else we can do.
1. Wash your hair with normal water before diving in: this way your hair soaks up the 'healthy' water, which leaves less space for the bad water. Want to do even better?
2. Wear your hair in a bun with conditioner or a mask while you are at the beach or the pool. This way you are not only hydrating your hair but also blocking out the damaging elements.
3. Rinse your hair at the end of the day: this way your hair isn't soaked with chlorine or salt all night long. It's not necessary to use shampoo but it is recommended to use conditioner or a mask, just to give your hair an extra boost.
4. Add Coconut oil to your conditioner: this really adds that extra care that you need in the summertime. Don't you love how multifunctional coconut oil is? <3
5. Protect your hair from UV Beams: we always wear sunscreen for our skin, so why don't we do the same for our hair? When Yvette told me this, my mind was actually blown because I never thought about it before. There are lots of brands which have UV protection, for example: Bumble & Bumble, Aveda and Furterer.(this can vary from leave-in conditioner to a spray). Whatever you choose, just make sure that it has good quality :)
6. Long term UV protection: Just like with sunscreen, the sprays and leave-in conditioners don't last that long. If you want a long term protection, you could try this new treatment from Sebastian called Color Shine: it protects the color of your hair and adds a UV protection that lasts 4-6 weeks, nice!
7. Wear a hat: this might be the most simple option of them all. Simply wear a hat so your hair isn't exposed to the sun all day long! I mean, obviously you can't wear a hat 24/7, but everything counts :)
I will definitely try to pay more attention to my hair this summer! What about you guys? Do you have any tips you wanna share? :)
Lots of Love,
Lynn
P.s. Awesome photography credits to Daniel Wolters
P.p.s. If you liked this post, also make sure to check out why I think Lived-in Blonde is better than Platinum